Madison Avenue (2018)
High Tech Office
Creating environments where brands flourish
Location
Portland, Oregon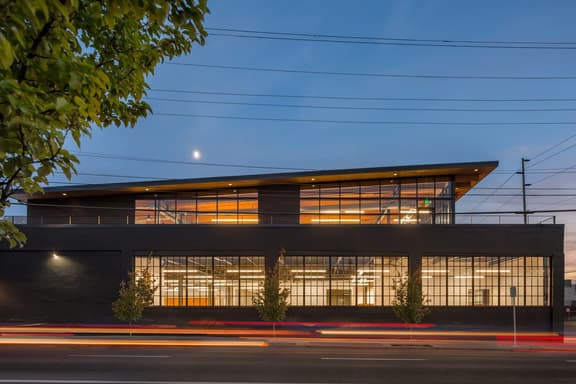 This historic building stands at one of them most prominent intersections in Portland's Central Eastside and has been a part of the neighborhood's incredible evolution since the 1920s. What first began as a local park with a lake has since been reincarnated as a Fred Meyer bakery and candy factory, as well as a W.L. May appliance parts warehouse. Madison Avenue has experienced many transformations of its own alongside the neighborhood, and it has successfully entered its latest incarnation as headquarters to creative, homegrown tech firm AltSource.
AltSource was excited for the building to maintain as much of its original form as possible and wanted it to continue to assimilate into the evolving fabric of the Central Eastside. The subsequent restoration of this building was incredibly intricate, requiring considerable structural and seismic reinforcements. The project team even went as far as adding a complex, custom steel seismic frame into the building shell.
NWSP successfully challenged the site's confining zone designation, allowing the team to add a modern second story to the previously single-story structure. The zoning change was advantageous to showcasing AltSource's new headquarters and in helping further restore the neighborhood's vibrance. In order to establish solid ground for the rehabilitation and added weight of the second story, NWSP had to dig down 24 feet into the brownfield site. The stronger foundation greatly helped as the adaptive reuse of the dilapidated historic building was carried out.
The completed headquarters adds natural light, modern materials, and technology throughout the previously dark and decrepit spaces, complementing the historic masonry and salvaged heavy timber trusses. A heavily glazed 8,000 square foot rooftop addition adds a unique amenity space and offers stunning views of downtown Portland. Extensive work was also done to the long-neglected streetscape around the property to meet the open ethos of the area. Local trees and plants were added to the landscaping, and new sidewalks, curbs, and stormwater planters connect the previously closed-off façade to the surrounding neighborhood.
Madison Avenue — now more commonly known as the AltSource Headquarters — was awarded the 2019 Art DeMuro Award for Excellence in Preservation, Reuse, and Community Revitalization, as well as the Daily Journal of Commerce's First Place 2019 Top Projects Award in Major Renovations.